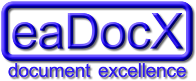 eaDocX is today announced as the only officially listed plug-in dedicated to high quality Word Document generation for Enterprise Architect. See it on
the Sparx webpage "
Third Party Plug-Ins for Enterprise Architect: Documentation" for more information.
It combines an intuitive user interface with tight integration with Word, so you can produce ready-to-publish documents with a couple of clicks. You'll save hours by instantly creating documents using the built-in formatting, then you can customise them to look exactly the way you want using the wide range of options.
Then when your EA model changes, a couple more clicks will pull in the latest from your EA model, directly into your Word document.
See what great documents you can create in a few minutes...
Simple to create great-looking documents or add EA content into your existing documents
Use formatting from your favourite Word documents
Automatically create hyperlinks within your documents
This represents a significant breakthrough for Enterprise Architect users. Now a whole project team can use EA as their knowledge repository: analysts, architects, designers, developers and project managers, because each can define their own documents, customised to their exact requirements.
eaDocX is
the

high-quality Microsoft Word document generator for Enterprise Architect.

We think that eaDocX represents outstanding value for money, and we'd like to prove that to you … try it now by downloading the 30-day trial.

As well as downloading a 30 day trial version, you can now also buy eaDocX on-line. The store at www.eaDocX.com is open for business, so now it is quicker and easier than ever to produce great looking Word documents from your EA models with eaDocX.

For more information about how to achieve document excellence, contact the eaDocX Team at This email address is being protected from spambots. You need JavaScript enabled to view it..