'EA Extension for Scrum' the newest third-party Plug-In approved by Sparx Systems provides agile teams the ultimate way to combine the functional power of Enterprise Architect with the Agile Community's ideas to manage the lifecycle of projects, products and deliverables. 
Now, you can combine your software development projects portfolio and have both Agile and Non Agile projects without having to use different tools. That way, you will have the best combination of tools and techniques with Enterprise Architect. Download a free 30-day trial now.
With 'EA Extension for Scrum' you will get:
Agile Requirements Management: Using Scrum Technology including a set of 'Agile' elements: Stories, Epics, Technical Tasks, etc. You will estimate and assign these elements to the project team.
Agile Project Management: Using the Product Backlog, Sprint Backlogs, Kanban Diagrams... along with many automations and constraint rules. You will enjoy this useful and straightforward environment.
KEY FEATURES
Product Backlog and Sprint Backlogs management.
Automatic Kanban creation for each Sprint.
Task State Update when moving across the Kanban.
Element Sprint Update when moving through the Backlogs.
'Burn Up' chart according several criteria.
'Burn Down' chart according several criteria.
Status Pie Chart generation.
Setup Sprint values depending on the team working speed.
Sprint capacity limit constraints.
SCREENSHOTS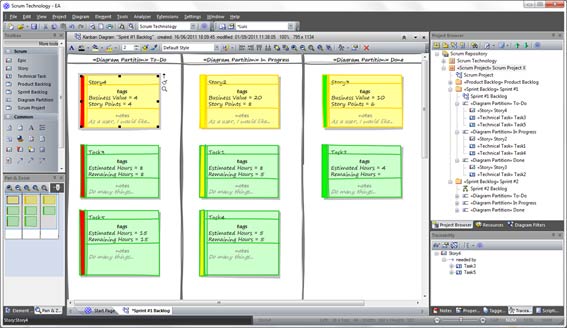 MORE INFORMATION
EA extension for Scrum official webpage (English)
EA extension for Scrum official webpage (Spanish)
Download your free 30-days trial and check these features
DO YOU NEED TO CONTACT US TO KNOW MORE ABOUT IT?
General Info (Sparxsystems Spain): This email address is being protected from spambots. You need JavaScript enabled to view it. 
General Info (DEISER): This email address is being protected from spambots. You need JavaScript enabled to view it. 
Pricing & Purchase: http://www.sparxsystems.es/New/products/eaextscrum_purchase.html